Plastic Injection Molding
DDPROTOTYPE combines the latest injection moulding technology and expertise to provide rapid tooling and plastic injection moulding services at competitive prices. We have experienced injection moulding project team to support us in providing high-quality injection moulding parts. Plastic Injection moulding services include high-quality aluminum prototype moulds for low-volume production and full-scale production of hardened steel moulds. Provide feasibility analysis of die design and manufacturing, from simple parts to complex parts, and have the ability to produce 50-100,000 finished parts. We can offer a variety of plastic resins, customized color and surface treatment options. The production of parts can be completed within 15 days by using rapid tooling.
Our rapid tooling and injection moulding services involve CAD/CAM parts and die design, manufacturability design (DFM) and Moldflow simulation. We offer options for cladding, insert and screw-down moulding, as well as weekly progress reports and die tracking reports.Through advanced material validation and quality process, we can ensure that your die and parts meet your target requirements, or even exceed your expectations. If you are ready to start the next project, please upload your product design information immediately to obtain a competitive injection molding quotation.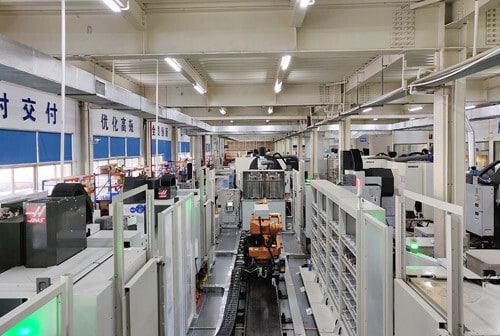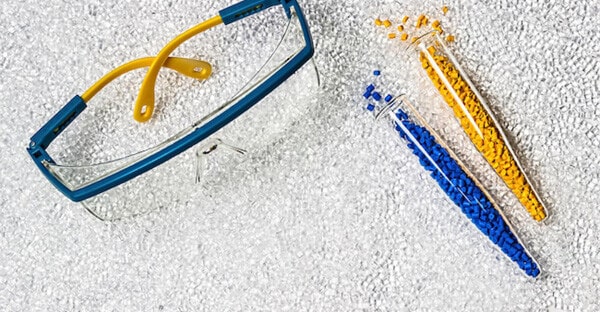 What is the role of rapid manufacturing?
You don't have to wait weeks and months and commit to high capital expenditures, and the aluminum tools they get usually start at a few thousand dollars and can produce more than 10000 parts, or even tens of thousands of parts. The result is not only short-term parts within a few days, but also high-quality plastic and metal parts.The automation design for manufacturability (DFM) analysis is another important advantage of software automation for rapid manufacturing customers. 
They can upload CAD models online and get design feedback within 24 hours to determine exactly what adjustments need to be made in the CAD model to improve its manufacturability. In turn, this reduces production problems and ultimately saves production costs.If equipped with rapid manufacturers, the company can shorten the product development cycle, reduce technology and supply chain risks, and reduce the total cost of development and inventory.
Wide Material Selection
We stock more than 100 different thermoplastic resins and accept customer-supplied materials. Our selection of injection molding materials includes:
PA (nylon)

PMMA (acrylic)

Polycarbonate (PC)

ABS

HDPE

POM (Acetal/Delrin)

PEEK

TPU

TPE/TPV
1 High efficiency
It can be produced 24 hours and a large number of plastic parts can be produced in a short time. Our team will guide you through all steps of the injection molding process. Free DFM feedback.
2 High-strength components
The strength of the moulded parts can be enhanced by adding special fillers to the liquid resin. Strictly according to customer's customized color production.
3 Low Cost
The repeatability of injection moulding usually results in low cost of each component. In addition, it provides low-cost aluminum rapid tooling options.
4 Ready-to-use:
As long as the mold is properly finished, the injection parts will be removed from the mold, and the appearance is smooth without further processing.
5 Detailed features
With the technical reserve of multi-cavity, complex mould and secondary injection moulding, high-pressure injection moulding is adopted, and injection resin can reach every sharp corner, allowing large-scale production of complex structural parts. Machine pressures range from 50 to 2,000 tons, providing all industry standard materials.
6 Strict Tolerances
Professional DDPROTOTYPE employees work tirelessly behind the scenes to ensure that your parts are manufactured on time and meet your precise specifications. We have passed ISO 9001 and ISO 13485 quality certification.

Plastic Injection Molding Video | DDPROTOTYPE
What materials do you use to make tools?
It depends entirely on the number of parts needed. The higher the expected number, the more difficult the tool material is to resist the wear of multiple moulding cycles. Although each case is unique, please refer to the following table as our starting point for your specific components:
Low-Volume
Tool Life: 1,000-10,000 parts
Tool Material: Aluminum or S50C steel
Tool Lead Time: 1-3 weeks for general tooling (may be slightly longer for more complex tools)
Medium-Volume
Tool Life: 10,000-100,000 parts
Tool Material: P20 steel or 738H steel
Tool Lead Time: 2-4 weeks for general tooling (may be slightly longer for more complex tools)
High-Volume
Tool Life: 100,000-1,000,000 parts
Tool Material: NAK80 or S136 steel
Tool Lead Time: 4-6 weeks for general tooling (may be slightly longer for more complex tools)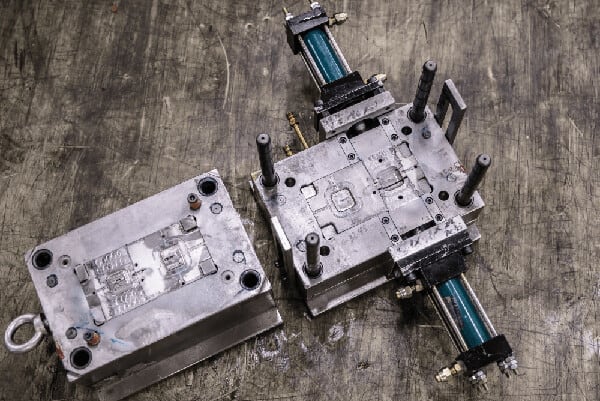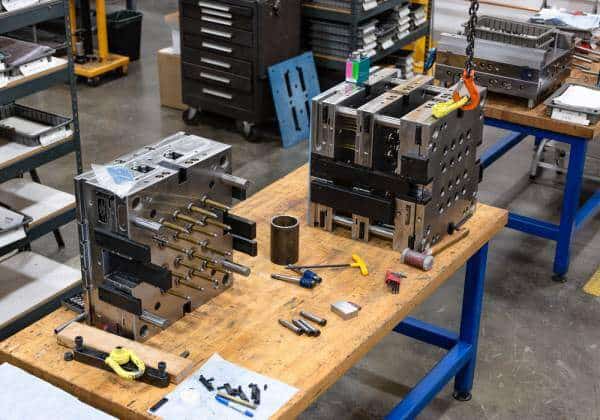 If I need really high quantities of parts, what steps do you take to assure my parts are as inexpensive as possible?
We look at many different ways to assure the lowest cost parts possible.
We use well-engineered cooling systems to reduce the cycle time.

Where applicable, we use multi-cavity tools to meet large volume capacity and reduce part cost.

We often use hot tip gates, sub gates, hook gates, and automatic cutting gates to reduce labor cost.

We have mechanical arms and conveyor belts installed on our Injection Molding Machines to help handle the molded parts automatically and efficiently.
What is Rapid Molding and Injection Molding?
Rapid tooling is a form of rapid prototyping manufacturing, which involves the process of creating mould rather than part, and creating mould using rapid prototyping technology to create multiple copies of parts.
Aluminum or mild steel is generally used as the material for rapid tooling. This is one of the appropriate ways when traditional tools are either expensive or not necessary for the required parts or volumes. Therefore, this is a perfect way to minimize costs when market testing requires small batches and will not require large batches in the future.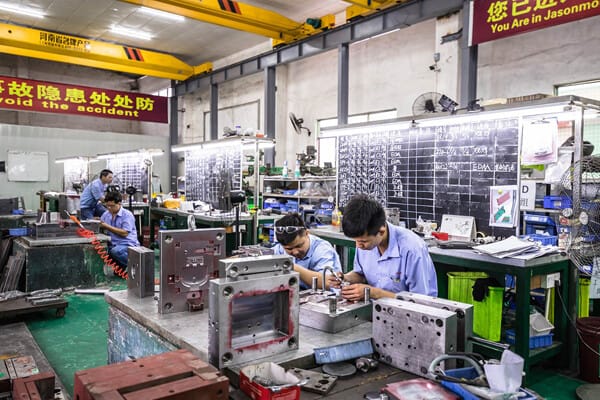 Injection Machine List

No.

Origin

Brand

Code

Amount

Clamping

Force

Tie Bar Distance
(mm)

Mold Thickness

(mm)

Mold Open Stroke
(mm)

1

Japan

TOYO

TOYO SI180

1

180T

560*560

250-600

470

2

Japan

TOYO

TOYO SI230

4

230T

610*610

250-680

550

3

Taiwan

HWA CHIN

HC80

2

80T

320*320

140-350

350

4

Taiwan

HWA CHIN

HC160

17

160T

460*450

150-500

500

5

Taiwan

HWA CHIN

HC210

7

210T

500*500

270-550

550

6

HongKong

L.K.

PT160

4

160T

459*459

200-450

400

7

HongKong

L.K.

PT200

6

200T

510*510

200-520

460
Create Dies
DDPROTOTYPE often uses its experience in CNC machining to create dies, but it can also use 3D printing and other to create dies.
Injection moulding is the process of injecting molten resin materials into mould to produce large numbers of parts. Because of its high accuracy, repeatability and large-scale cost-effectiveness, injection moulding is used to manufacture products and components ranging from minimal medical plug-ins to large-scale automotive and aviation parts.
In the process of injection moulding, the resin material is heated and mixed, in which the reciprocating screw injects the melted resin material into the separate mould, then injects the material into the cavity under high pressure, cools in the cavity and solidifies into the appropriate shape to form the final plastic parts.
When used in conjunction with rapid tooling, injection moulding is very efficient and can create parts at low cost in a very short time.
The key steps of injection moulding process:
1 Clamping: Close both sides of the die and be sure to clamp.
2 Injection: The resin material is fed into the machine and pushed into the mould. The material melts due to heat and pressure and then injects plastic into the mold – this is called "injection".
3 Cooling: The plastic in the die is cooled and solidified into the shape of the part.
4 Ejection: After the parts are cooled, they eject from the die.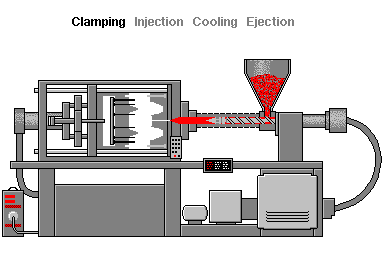 Advantages of Injection Molding
Because of the high pressure characteristics of injection moulding process, it is much easier to manufacture parts with detailed features or complex geometric shapes, which are too expensive by CNC machining. The characteristics of repeated use of dies over a long period of time lead to extremely high productivity, which is more cost-effective and efficient than other manufacturing processes. Different injection moulding processes, such as cladding and insert moulding, allow you to create plastic parts with unique characteristics, such as enhanced strength, soft grip surface or increased flexibility.