CNC Machining Service
DDPROTOTYPE provide a variety of precision CNC machining services including CNC milling, CNC turning, EDM and wire EDM, and surface grinding. With 50+ sets Multi-axis CNC precision machining centers, 40+ senior engineering with rich professional experience to control the tolerance within 0.005mm for your precision parts. If you need a reliable rapid prototyping manufacturing partner to support you, DDPROTOTYPE will be the best choice for you. Keep learning more about us, or contact us now for Get an instant quote.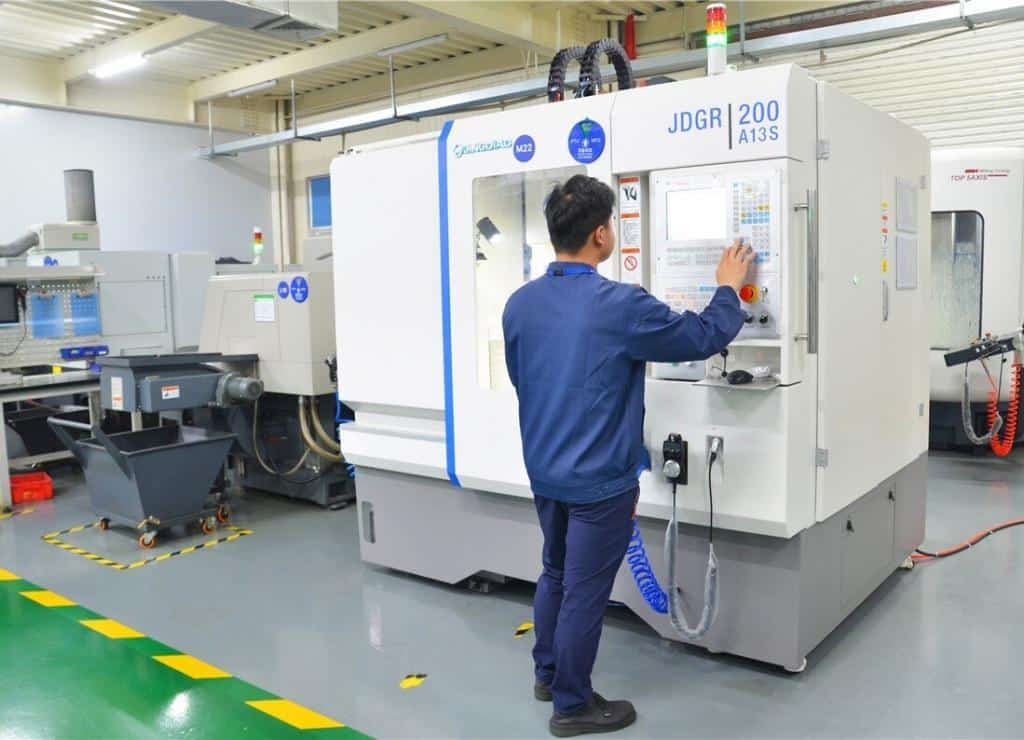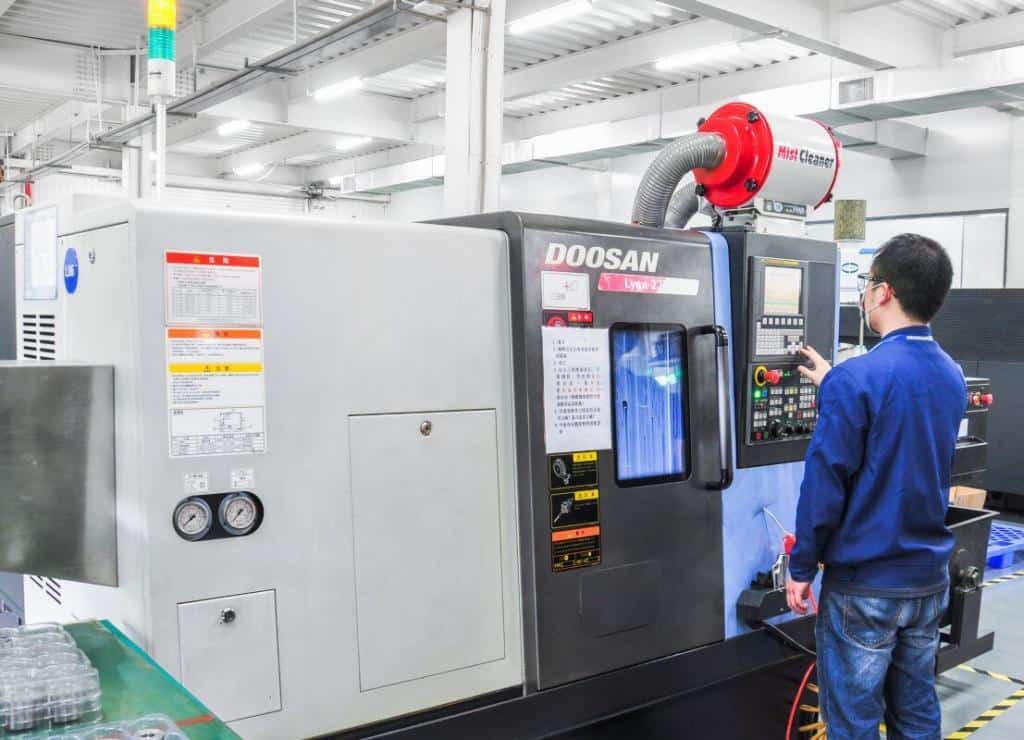 CNC Milling service can be applied to manufacture highly precision and sophisticated parts, such as the parts with 3D curved surface and complex geometries. CNC milling is universal , accurate and repeatable, can machining many different type of structure precision parts, including holes, curves, grooves, angle shapes and channels. Only one time clamping required, and using different cutters to achieve the different shape, tolerance can be controlled within ±0.005mm.
CNC turning using drill, expanding drill, reamer, tap, threading die and knurling and other corresponding tools, machining some round or ball-shaped and taper parts, as well as special external and internal threading.  Precision can achieve 0.005mm, surface roughness can follow ISO 2632/1-1975 standard Unless otherwise specified. This processing method can manufacture various engineering plastics and different metals, such as steel, copper, aluminum, magnesium , PEEK POM PA ABS PP PC PMMA PTEF and so on.
CNC Machining Video | DDPROTOTYPE
CNC Machining Capability
At DDPROTOTYPE, Our experienced machinists can create quality parts that meet or exceed your expectations for precision, quality, and turnaround time. We can handle with stainless steel, aluminum, titanium, brass and other metals and engineering plastics into precise parts through milling or turning machining to meet different customers needs in different industry area, such as national defense, automatic, medical, electronics and robotics. surface roughness can follow ISO 2632/1-1975 standard Unless otherwise specified, High precision to 0.005mm. Special dimension please contact us for details.
CNC machining service at DDPROTOTYPE not only limit to rapid prototype manufacturing.Over 10+ senior CNC programmers with rich experience, according to the drawing requirement to choose difference CNC machining centers and cutter for manufacturing, can cover production for low-volume and full-scale orders, quantity can start from 1pc to 100Kpcs. During the machining process, for the special dimensions we will arrange on-site inspection. When parts finished the production, we will arrange full dimensions inspection and provide inspection report before delivery. DDPROTOTYPE provide the design validation and assemble service also. Contact us now for start CNC machining project.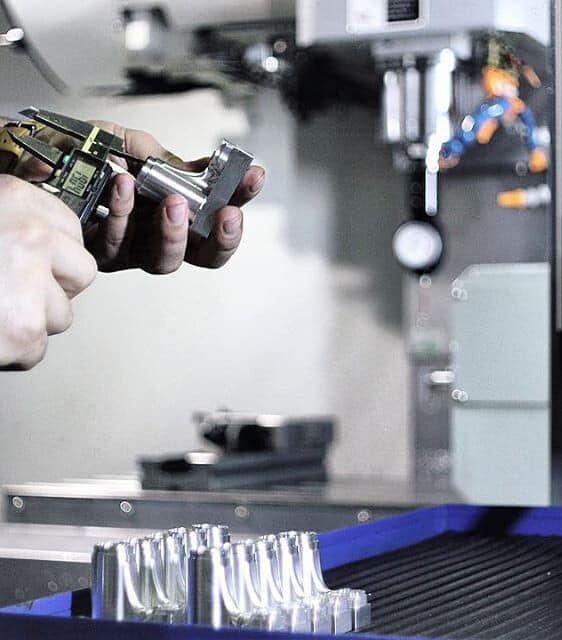 Advantage of Our CNC Machining Service
1. Experienced machinist team has solved many complicated projects. For complex and high precision projects, we have a series of solutions about deep drilling, thin wall thickness, irregular structure, and so on.

2. There are 100+ in-house manufacturing and testing machines, including Jingdiao 3 and 5 axis CNC machines, CMM. Travel max to 2000/800/350mm. High-precision tolerance to 0.005mm.depending on customer requirements.

3. Located in Shenzhen China with completed supply-chain, various materials optional meet your special requirements. 50+ operators with 7*24 hours working time, short your developing schedule and cost saving. 3~7 days worldwide delivery, 40% to 70% off than Europe/America.

4.With 20+ years of CNC machining experience, can  streamline machining path to min, machining parts in the fastest time and deliver on time , which can greatly save processing time,and reducing machining costs. 
CNC Machining Auxiliary Process
To achieve some specical structural requirements, such as undercut structure, deep groove and vertical structure, we will use manual milling machine, EDM, wire cutting, grinding machine, deep hole drilling machine to assist machining to meet customers' different requirement in dimensions and structure.
EDM is an important auxiliary manufacturing process of CNC machining, often used in mold manufacturing, but also for some special structure of prototype machining.  Using conductive graphite or copper electrodes immersed in the dielectric, when applied with a high voltage current, sparks are generated on the copper tool wall, etching away excess material and fulfilling the customer's critical radius angle requirements. 
Surface grinding is a process for making parts with extremely flat and smooth surfaces.  When the workpiece is fixed in the fixture, It moves back and forth across the surface with a precision grinding wheel, Thus the surface roughness can be greatly improved.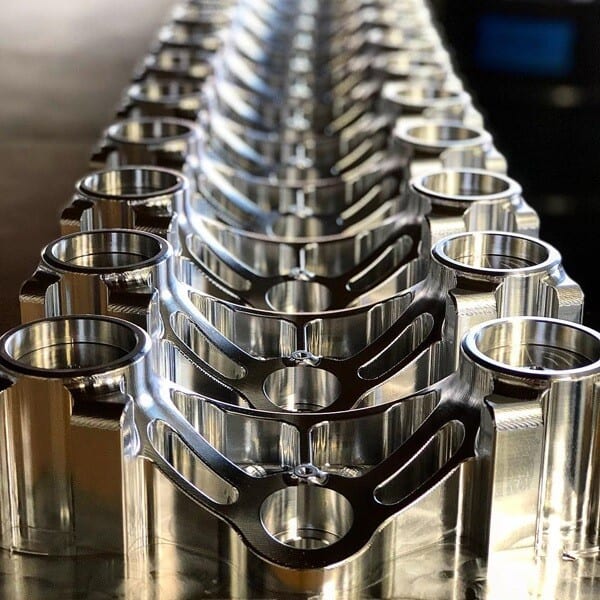 Standard tolerance for CNC machining
About tolerance, unless otherwise specified, For CNC milling and CNC turning parts, we follow DIN-2768-1-fine tolerance standard; For vacuum casting and sheet metal parts, we follow DIN-2768-1-medium tolerance standard; For assembly parts to be welded, we follow DIN-2768-1- coarse tolerance;
Before starting machining, our programming engineer, production engineer and quality engineer will discuss the machining plan of the product, whether the tolerance can be achieved, and the testing fixtures and tools needed. For parts that need to be manufactured on multiple surfaces and require high precision, we will test them while machining and prepare testing fixtures according to requirements to to ensure accuracy.
Above tolerances won't apply to sheet metal parts, welded assembly part , and overall dimensions over 400mm. For any special tolerance requirements, please feel free to contact our team.
CNC Machining Finishing Service
For appearance prototype, in order to show the final intuitive effect of the product, many clients need to do a variety of special surface finishing in accordance with the mass production requirements; Our team are able to deal with aluminum anodizing (various colors available according to Pantone Number provided), steel passivation, metal/plastic painting, plastic vacuum plating, electrophoretic coating, brushing, electropolishing, mirror polishing, silk screen printing, etc., to meet a variety of requirements.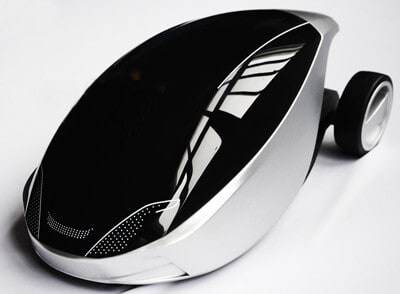 CNC FINISHING AND POST-PROCESSING OPTIONS

As machined (standard)

Bead blasting

Polishing

Heat treating

Anodizing

Brushing

Screen printing

Passivating

Powder coating

Painting

Engraving

Plating……
CNC machining is a highly accurate and precise manufacturing process that can create parts with tolerances as tight as 0.005 mm. However, CNC machining leaves cutting marks that create a level of roughness on the finished prototype surface.In manufacturing, there are specific Ra values that are considered industry standards, as specified in ISO 2632-1. These are the values that may be specified during CNC machining. They range from 12.5 um to 0.025 um and apply to all kinds of manufacturing and post-processing operations.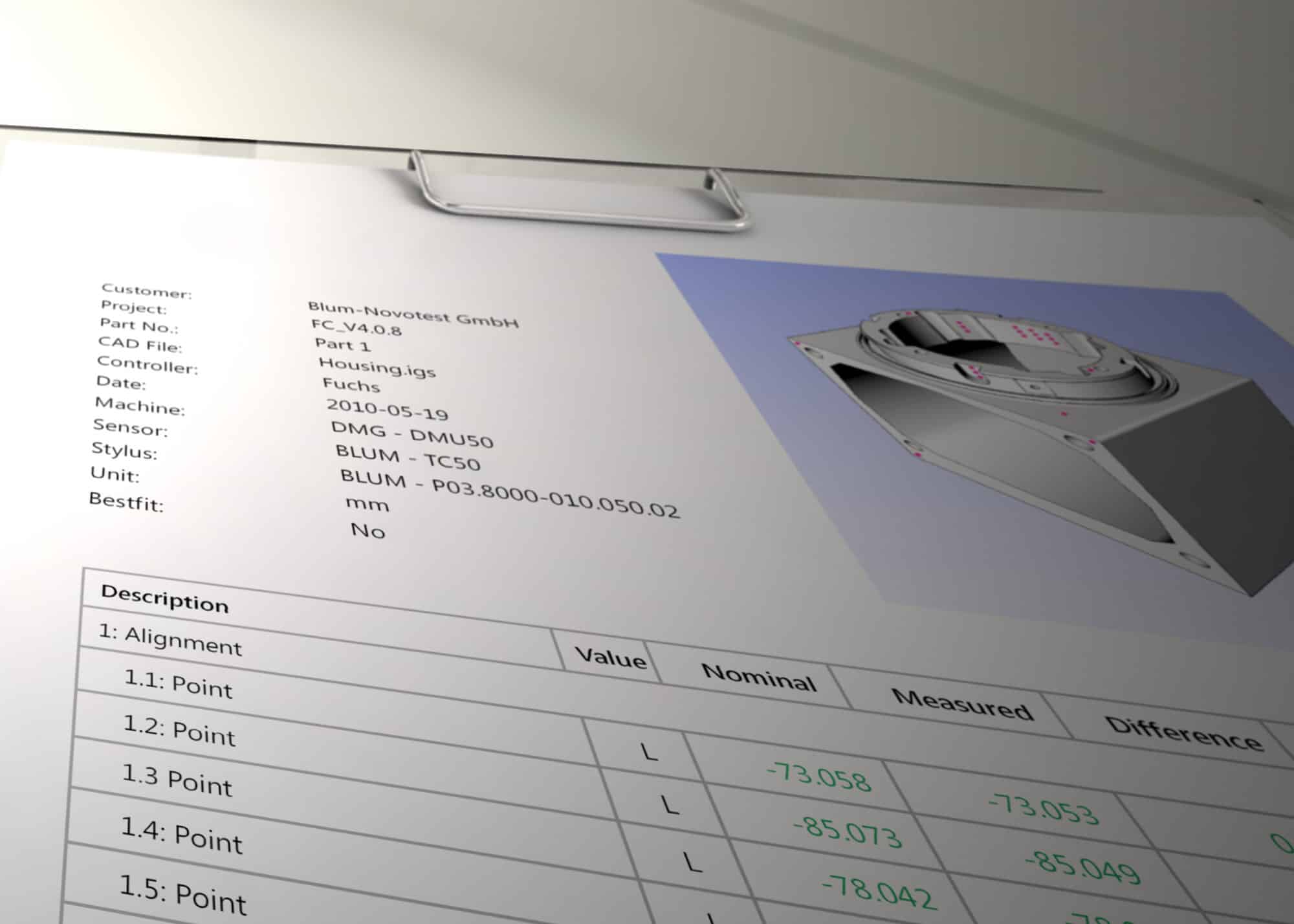 Full Dimensional Inspection Reports
full dimensional inspection reports
Surface finish stems from the understanding of the surface hardening rate of a given material. No worry. DDPROTOTYPE is your best choice for quality CNC machining and finishing services at the best prices. We offer full dimensional inspection reports, so you can be sure of desired results. We also carry out different finishing processes ranging from anodizing, electroplating, bead blasting to polishing, brushing, and more.
For the parts with assembly relations, we will conduct trial assembly before delivery, purpose for guranttee the parts fit well when customer received it.
At the same time for all parts with 2D drawings, we will arrange full dimensions inspection and send inspection report to customer, which is a most important internal working procedure at DDPROTOTYPE.
Although CNC machining is versatile, but there still have some processing limitation because of design. So when we design a part, we should take the design rules into consideration to guranttee the CNC machining process smoothly. The limitation of CNC design are mainly due to the mechanics of the process, the geometry of parts, and the limitations of cutting tools.
To take full advantage of CNC machining, designers need to follow manufacturing design rules to make the product has feasibility of machining.  If you need support, we can provide some suggestions in order to avoid the machining failure due to design defects.  We have done some basic and common design defects for reference.
Advance 3 axis CNC Machining Center
If your prototype is not very complex and your budget is limited, it is also a good choice to choose 3-axis CNC machining service. Also it is a cost-effective choice. In many cases, 3-axis CNC machining is a popular prototype machining method. DDPROTOTYPE purchased another 20 sets Jingdiao equipments, tolerance can achieve to 0.005 mm. Quota Our quality inspection equipment, DDPEOTOTYPE is fully capable of meeting your needs, even the quality will exceed your expectations.

3-axis machining is processed by linear feed axes X, Y and Z. 

Machining features: The direction of the cutting tool remains constant throughout the cutting path. 

After the machining parts are clamped once, the CNC system can control the machine tool to select and replace the tool automatically according to different working procedures.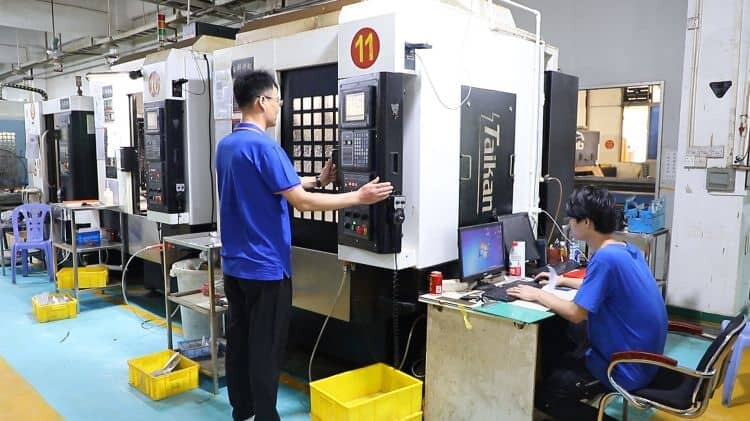 Changing machine tool spindle speed, feed and tool relative workpiece movement track and other auxiliary functions automatically, continuously proceeding with milling, drilling, tapping and other processes on workpiece automatically.
Because the machining center can be centralized, accomplish a variety of processes automatically, avoid manual operation error, reduce the workpiece clamping, measuring and machine tool adjustment time a, which greatly improve the processing efficiency and processing accuracy, with higher economic benefits.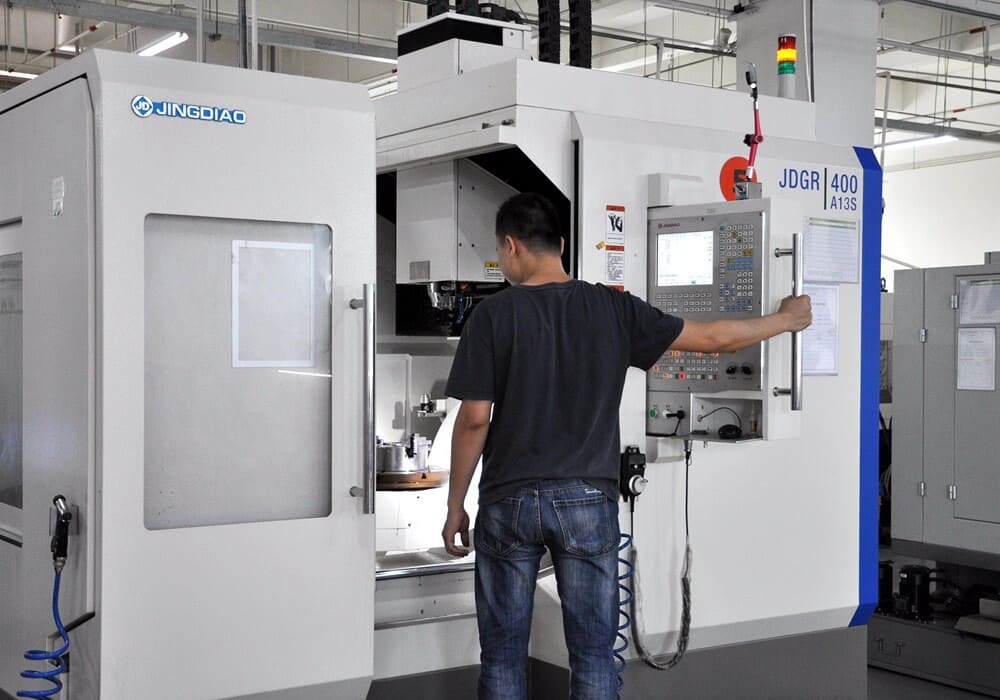 5 Axis CNC Machining Center
Advanced 5-axis vertical machining center, model JDGR-400T, can process and milling more complex parts with high precision. 5Axis CNC machining Service will take your manufacturing process to a higher level, even beyond the expectations of customers.Complex parts are perfect for GMU-400T. With its generous travels and 5-axis capabilities, you'll easily reduce setups and part handling, while increasing feature-to-feature accuracy.
Our 5-axis CNC machining centers make turned and milled parts from a wide range of plastic, and metal alloy materials – such as aluminum, brass, nickel, and steel, both mild and stainless steel. We use industry-leading software like Autodesk PowerMill and CGTech Vericut, and we have over 8,000 + genuine Gühring cutters in stock.
5-axis CNC machining is an effective means to reduce setups and increase accuracy for multi-sided and complex parts. The JDGR 400T has an integrated dual-axis trunnion table with a 400 mm diameter platter that features standard T-slots and a precision pilot bore for fixturing versatility. The trunnion provides -120 and 90 degrees of tilt and 360 degrees of rotation to provide excellent tool clearance and large part capacity.
5 Axis CNC Machining Center- JDGR 400T
Tolerances for feature size:
Standard +/-.002mm

Minimum +/-.002 for metal and +/-.003 for plastic
Tolerances for hole diameter:
Standard +/-.002 mm

Minimum +/-.0004 mm for metal and +/-.001 mm for plastic
Tolerances for Flatness, Run Out, Cylindricity, Perpendicularity and other Geometry:
Standard+/-.005 mm

Minimum +/-.002 mm is possible per geometry dependent
X/Y/Z axis working stroke:450mm/680 mm/400mm
Maximum Speed:20000 rpm
Tool Magazine Capacity:36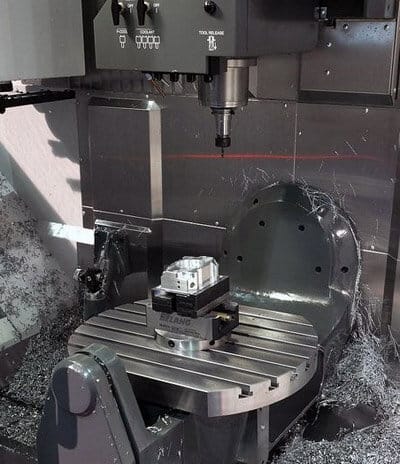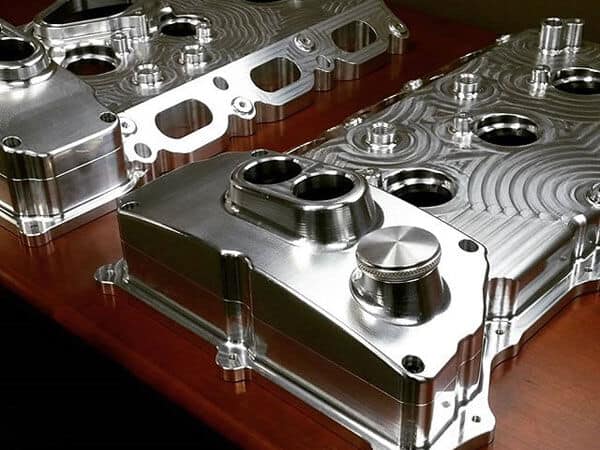 Helping Our Customers
Richard, from the United States, found us through Google search and manufactured an engine cover. The prototype machining is very complex, there are many apertures, and the tolerance requirements are more stringent. Richard is an industrial designer who has worked with many prototyping companies. When DDPROTOTYPE sent the hood to Richard, Richard gave a high appraisal, indicating long-term strategic partnership with DDPROTOTYPE. Richard's colleagues have now fully recognized us. Send your 3D drawings, get competitive quotations and feedback within 12 hours.
Plastic and Metal Materials
We stock more than 60+ engineering-grade plastic and metal materials that are suitable for various part applications and industries. Materials range from plastics like ABS, polycarbonate, nylon, and PEEK to aluminum, stainless steel, magnesium, and copper.