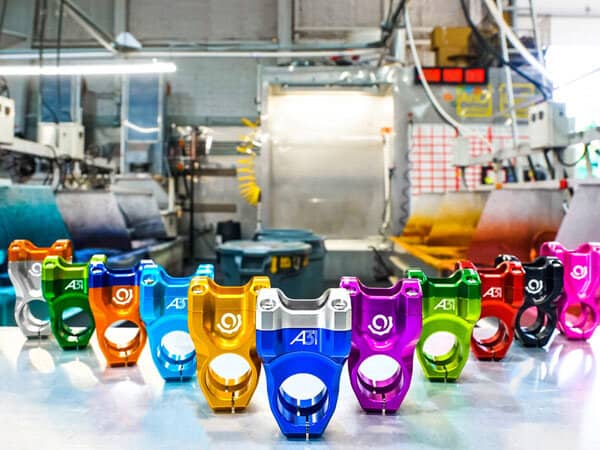 Anodizing Aluminum
Anodized metal includes aluminum, titanium, which customized any anodizing colors,hard anodized service. Logistics enable anodizing near to be realized.When your aluminum prototype or parts need aesthetic design, anodizing aluminum is one of the first choices. The anodizing process forms a layer of oxide on the aluminum prototype parts, which effectively improves the corrosion resistance, enhances the visual beauty, and prevents the surface from being scratched. Anodizing is a very popular finishing service, which can not only enhance the mechanical properties and appearance of the parts, but also combine with the aluminum substrate, which will not crack or peel off. It has a highly ordered porous structure and can be used for secondary processing such as coloring and sealing. Anodizing technology can use anode film to provide unique aesthetic effect, but the choice of metal is limited, widely used in titanium, magnesium, but the most widely used is anodizing aluminum.
Anodized metal
Aluminum is the most common anodized metal and is usually the most popular material. However, there are several other materials that can be anodized. Magnesium can be anodized, but its application is very limited and has not been used on a large scale. Titanium may be the second most common anodizing material, but it is still far less popular than aluminum. Some materials should not be anodized at all. If the carbon steel is anodized, it will only corrode and will be more easily aged.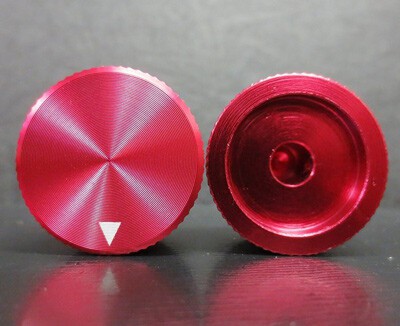 How to apply anode coating?
The anodizing process involves immersing the aluminum in an acid bath and then passing the charge through the medium. The cathode is located on the outside of the cell, while aluminum is used as the anode (hence the term anodizing). As the current flows through the molten pool (usually sulfuric acid), oxygen ions are released from the acid electrolyte and combined with the aluminum substrate to form an alumina layer. Anodizing is to produce porous structure in the aluminum matrix, which is conducive to the absorption of color dyes.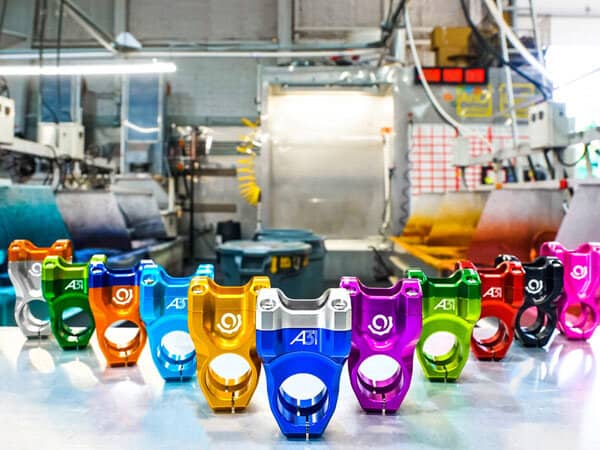 Anodized Aluminum Colors vs Anodizing Near Me
DDPROTOTYPE uses standard organic dyes to treat black, blue, red, gold and a small amount of green and gray. There are many processes and standards for anodizing aluminum, the most common of which originated in the national defense, aerospace and automotive industries. In the United States, the most commonly cited anodizing specification is Mil-A-8625, which defines three types of aluminum anodizing: Type I – chromic acid anodizing, Type II – sulfuric acid anodizing and Type III – sulfuric acid hard anodizing, and Types II and III are the most commonly used.
Anodizing near me has become an implementation of modern logistics system. DDPROTOTYPE usually uses FedEx and DHL, and can transport prototype parts of any anodized aluminum colors to all parts of the world, which only takes 3-5 days to the United States and Europe, depending on your geographical location
Chromic acid anodizing:
Chromic acid anodizing or type I anodizing produces three main types of thinnest anodic coatings; typically each surface is. 00002 in -. 0001 in. (20 to 100 microinches) thick. Although very thin, a properly sealed chromium anodized layer provides the same corrosion protection for aluminum as the thicker sulfuric acid and hard coating anodized layers. The color of chrome anodizing looks much grayer, while the thinner ones absorb less color during dyeing. This limits the use of chromic acid anodizing as a decorative finish, but it can be dyed black for use as a non reflective protective coating on the optical component housing. Compared with the conventional sulfuric acid black anodizing treatment, even the black dyed chromium anodizing treatment is lighter in appearance (particle size). In order to make chromic acid anodizing process accept black dye, the temperature of chromic acid must be increased.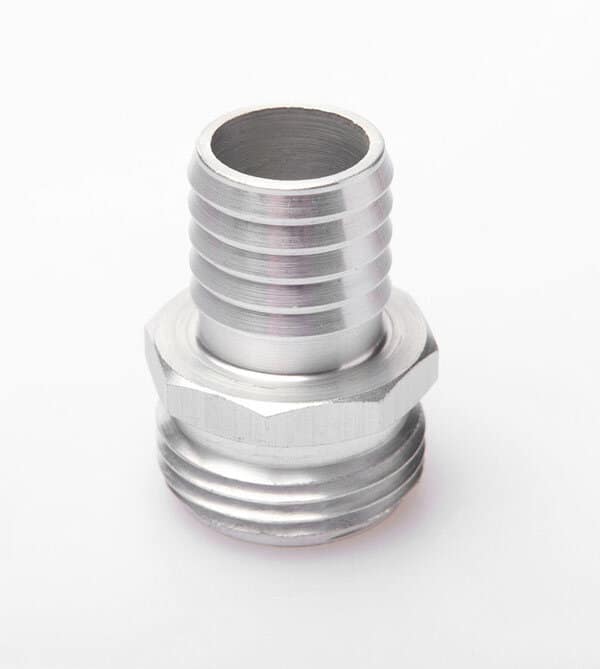 Chromic acid anodizing characteristics:
Applicable to parts with strict tolerance requirements: no dimension change.

Can be dyed black – other colors are not practical.

Good adhesion.

Non conductive.

For welded parts and assemblies.
Sulfuric acid anodizing:
Sulfuric acid is the most common anodizing aluminum method. The thickness range of sulfuric acid anodizing film is. 0001 "- 001". The permeability of the coating in the substrate is 67%, which is 33% higher than the original size of the part. It is particularly suitable for parts requiring hardness and wear resistance. However, where parts are subject to high stress (such as aircraft parts), corrosive acid residues are not expected. Before sealing, the porosity of sulfuric acid film has a special advantage in the production of color surface finish on aluminum and its alloys. Porous alumina absorbs dyes well, and subsequent sealing helps prevent color loss in use. Although the dyed anodic oxide films have certain color fastness, they still have the trend of bleaching under long-term direct sunlight, including black, red, blue, green, gray, brown and gold. Parts can be chemically or mechanically treated prior to anodizing to achieve a matte (non reflective) effect.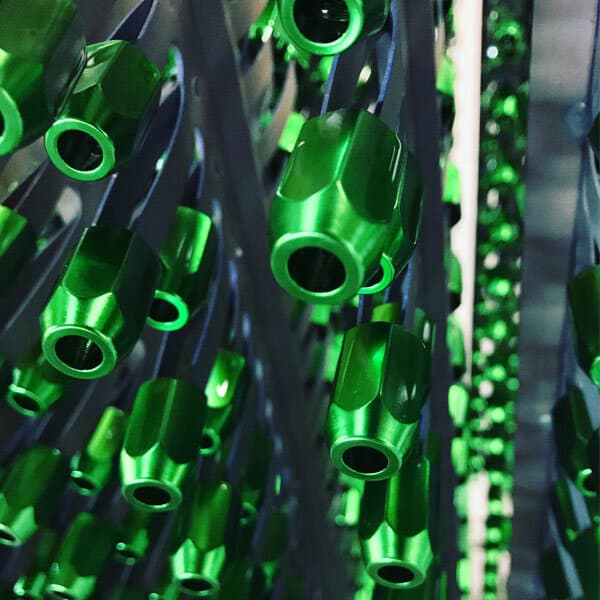 Anodizing Aluminum Video | DDPROTOTYPE
Advantages of sulfuric acid anodizing:
It has wide application range and low cost.

More alloys can be processed.

Harder than chrome anodizing.

A clearer finish allows dyeing in a variety of colors.

Waste treatment is easier and more environmentally friendly than chromium anodizing.
Hard anodizing (hard coating):
Hard anodizing is usually carried out in sulfuric acid based electrolyte, but it is much thicker and denser than the more conventional sulfuric acid anodizing. Hard coatings are suitable for aluminum components that require extreme wear applications with very high wear resistance, or corrosive environments that require thicker, harder, and more durable coatings. It is also valuable where electrical insulation needs to be enhanced. In some cases, hard coating anodizing can be increased to a few thousandths, so this type of anodizing is a candidate method to repair worn or mismachined parts.
Hard anodized function:
Improve wear resistance.

Non conductive.

Can repair worn surfaces on aluminum.

Improve part surfaces for sliding applications.

Can be dyed black; other colors are less decorative.

Finish machining is harder than steel tools.

Can grind.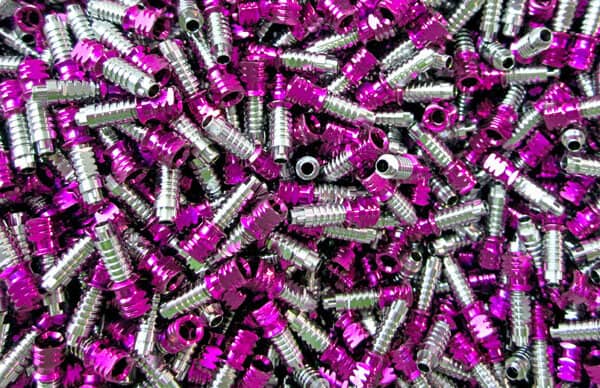 What should you look for in anodizing?
The term anodizing is often misunderstood, especially in terms of the phrase "hard coating". On the surface, the term "hard" appears to indicate some form of strength or wear resistance, in which case the hard coating more accurately refers to the thickness of the anode layer. The specification Mil-A-8625 from this term does not even mention any hardness characteristics of type II or type III anodizing aluminum. In fact, the hardness of the two types of alumina will be equal, although the thickness difference of the hard coating does significantly change the surface appearance of the substrate. As mentioned earlier, the most common anodizing specifications in the United States come from the aerospace and defense industries. If your prototype parts are used in aerospace, defense industry, automobile, etc., and wear resistance is considered, hard coating anodizing will be appropriate.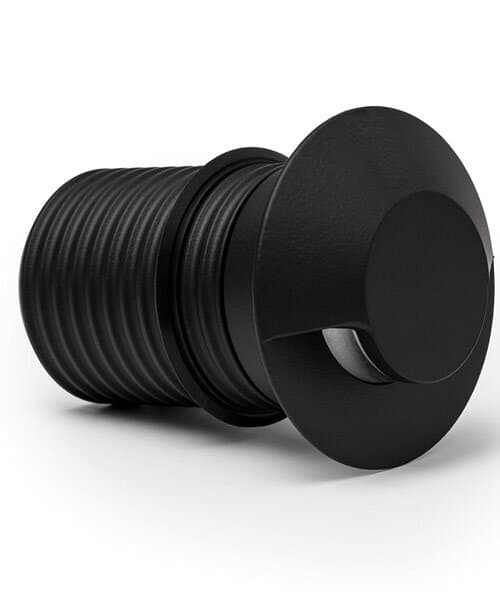 Should you anodize aluminum parts?
Now that you know more about anodizing aluminum, you can determine if this process is appropriate for your parts. If you need functional aluminum parts that are subject to corrosion or wear, such as aircraft parts or consumer goods, this finishing service will meet your needs. Anodized aluminum also has a visual appeal, especially because you can add color to parts while maintaining the metallic luster.
If you want to learn more about how this technology can help you improve prototypes and parts, please contact DDPROTOTYPE's expert team to find out how anodized aluminum can improve your own production plan.
DDPROTOTYPE is a rapid manufacturing company of precision mechanical parts in China. It is especially good at CNC machining service and is committed to providing the best anodized parts in the market. Maintaining the most advanced technology and a field engineer enables us to provide customers with "one-stop service" of design and rapid manufacturing.