Vacuum Casting
DDPROTOTYPE is fully capable of meeting your polyurethane vacuum casting needs. With many years of professional experience and advanced equipments, we could manufacture parts to meet your requirements, even exceed your expectations, and with fast turnarounds. Vacuum casting is a good method for manufacturing rigid or flexible parts, and is one of the ideal choices for prototype manufacturing, assembly testing, concept verification and Exhibition demonstration. These parts can be made from hundreds of casting polymers. Our vacuum casting service generally uses 3D printing or CNC machining to manufacture main mold and silicone mold. The precision of parts in vacuum casting depends on the main model, the geometric structure of parts and the casting materials. Usually, the predicted shrinkage rate is + 0.15%.
What is Vacuum Casting?
Vacuum casting service is a manufacturing technology that uses vacuum to absorb liquid materials into molds. Vacuum casting technology has obvious advantages, especially for parts with undercut or detail. This process starts with a master model, which DDPROTOTYPE creates using a CNC machining or 3D printing. The main model is then immersed in liquid silicone resin, which is cured and molded. Once it is cut and the main model is removed, the silicone molding can be put into use. In the next stage, liquid resin needs to be poured into the mould, because vacuum can remove bubbles to ensure smooth surface. The resin is then partially cured and removed from the silicone mold, which can be reused about 20 times. Each resin component is an exact copy of the original master model.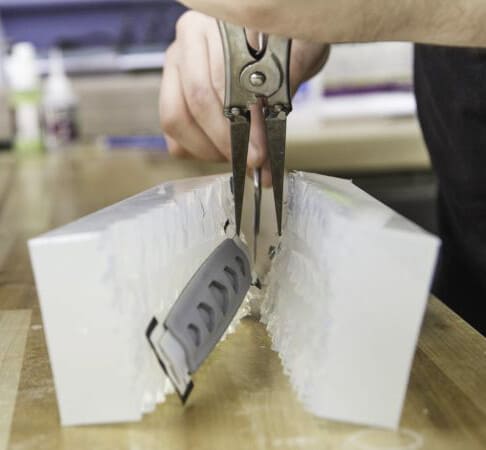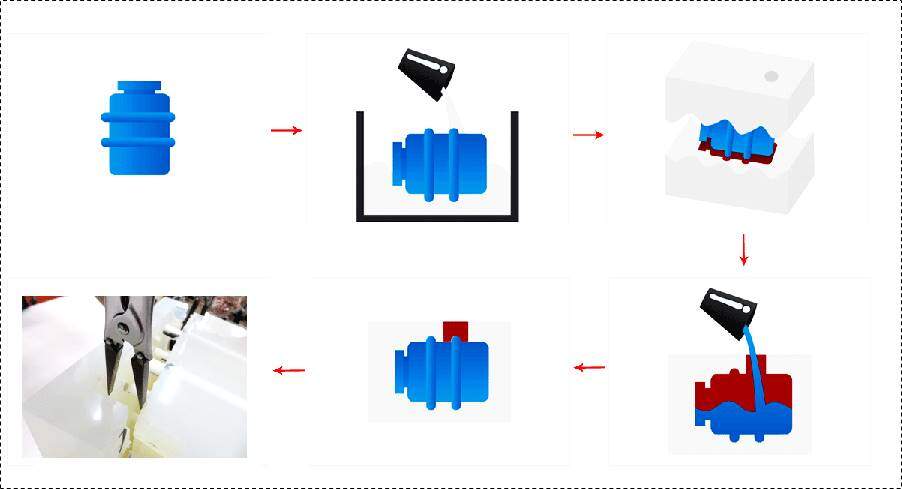 Technical Specifications
1 Standard lead time: Up to 10 copies within 15 working days
2 Standard accuracy : ±0.3% (with a lower limit on ± 0.3 mm on dimensions smaller than 100 mm)
3 Minimum wall thickness: To ensure that the mold is filled properly, a wall thickness of at least 0.75 mm is necessary. For best results, we recommend a wall thickness of at least 1.5 mm
4 Maximum part dimensions: The size of the mold is limited by the dimensions of the vacuum chamber (1900 x 900 x 750 mm) and by the volume of the product (maximum volume: 10 liters)
5 Typical quantities: Up to 25 copies per mold (depending on the mold's complexity and the casting materials)
6 Surface structure: High-quality surface finish comparable to injection molding
Why choose Vacuum Casting?
Silicone molding results in high-quality parts comparable to injection-molded components. This makes vacuum casted models especially suitable for fit and function testing, marketing purposes or a series of final parts in limited quantities. Vacuum Casting also lends itself well to a variety of finishing degrees, and we can match the finish you need for your parts.

Vacuum Casting Video | DDPROTOTYPE

1 Material selection
We offer rigid and flexible polyurethane casting materials ranging from very soft and flexible (Shore A) to extremely strong and impact resistant (Shore D). The casting color of the parts is strictly customized according to your requirements.
2 Scalability
Our polyurethane casting service is suitable for small batch production in quantities of one to hundreds. Generally speaking, the silica gel mould can accurately cast about 20 parts. The maximum number varies from part design to material casting.
3 Color Matching and Completion
Vacuum casting service can reproduce small details. It is almost unnecessary to finish because the required texture and finish levels are precise copies of the master molding.
4 Fast turnover
Vacuum casting service can be delivered within 10 days as soon as possible, depending on the size and quantity of parts. In general, injection moulding may take several months to complete.
5 Affordability 
Vacuum casting service is cheaper than injection moulds, resulting in lower prices. Moreover, in China, labor costs are relatively low and resources are abundant. The cost of the same parts is 30% to 50% lower than that in Europe or the United States. 
6 Produce large parts
Vacuum casting can produce very large parts, which can remove bubbles and enable materials to capture details. Almost unlimited complexity is allowed, including sharp inner corners that CNC machining cannot achieve, and designs where injection moulding cannot achieve uniform wall thickness..
Available polyurethane materials
Flexible Urethane (Shore D 62-67)
Rigid Urethane (Shore D 82-86)
Rigid Urethane (Shore D 62-67)
Polyurethane materials are imported from Japan or France, ABS-Like, PMMS-Like, Opaque Elastomer, Waterclear Elastomer, If you have the hardness material you need, please tell us, we will accommodate it.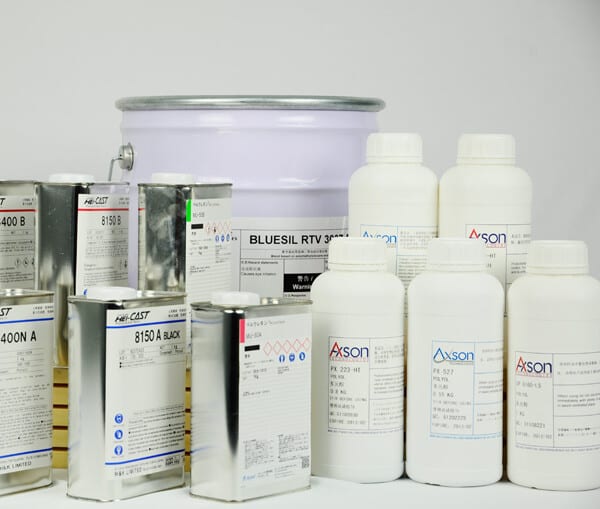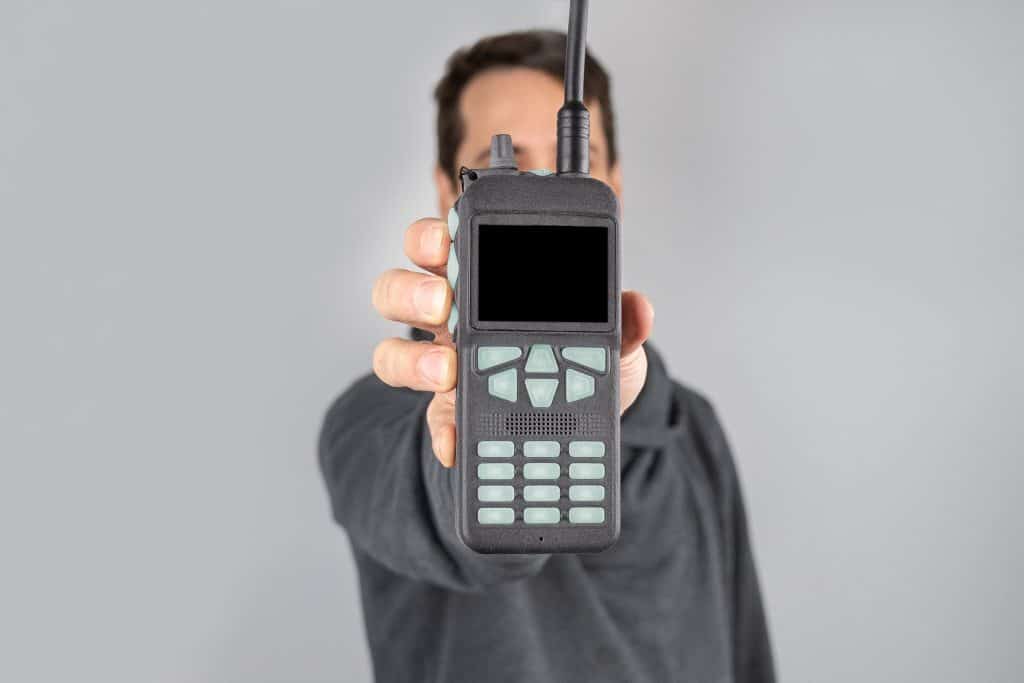 Standard
The surface treatment of the parts has a high finish, and the color can be painted accurately according to your designation.
Customized 
DDPROTOTYPE can certainly provide additional processing, including custom texture and assembly, to meet your needs. 
General Tolerance
Each inch is between (+0.010 inches) and (+0.003 inches), whichever is larger. Irregular or overly thick geometric structures may be deviated or deflected by shrinkage.Due to the thermal expansion of liquid and the characteristics of flexible die, the shrinkage rate is estimated to be + 0.15%.
We recommend a minimum wall thickness of 0.040 inches. (1 mm). However, in some cases, the thinner wall thickness will be reduced to 0.020 inches. (0.5 mm) can be used for small parts. Usually, the larger the component, the larger the wall to ensure proper support.
Vacuum Casting Process:
1 Main mode: The main pattern for manufacturing final parts. 3D printing or CNC machining is most commonly used because of its high resolution and naturally smooth printing surface.Patterns need to withstand a temperature of 40 degrees.
2 Forming: wrap the main pattern in liquid silicone to form an accurate mould. When the mould solidifies, it is cut into two different halves and the main pattern is removed.
3 Pouring: pouring liquid plastics into the silicone mould and then putting the mould into the vacuum chamber will help remove bubbles in the liquid material. Once cured, half of the silicone resin is separated and the newly formed part is removed. Repeat this process until the required quantity is reached.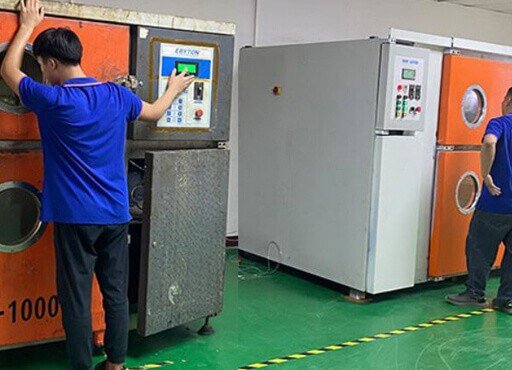 Vacuum Casting Application
1 Low-volume manufacturing
Polyurethane castings are well suited for low-volume manufacturing – less equivalent to support investment in injection moulds – and for first-time production parts, which can be completed months before injection moulding is ready.
2 Advanced Prototype
Vacuum casting technology and relatively inexpensive tools make it easy and economical to make any necessary design changes. In addition, different polyurethane materials can be used together with the same patterns, so that various materials can be used to test whether the design is appropriate.
3 Market testing
End-user functions and high-quality surface treatment make vacuum casting parts an ideal choice for consumer testing, user evaluation and conceptual models. The use of vacuum casting technology means rapid market testing.
Polyurethane Vacuum Casting Case