EDM Machining
As a leading prototype manufacturer in China,DDPROTOTYPE could provide customers with precise EDM Machining services. EDM is mainly used for machining parts with complex shapes of dies and holes and cavities; machining various hard and brittle materials, such as carbide and quenched steel; deep holes, special holes, deep grooves, narrow slices; forming tools, samples and processing various screw ring gauge tools and gauges. We adopt advanced Japanese production equipment and processing technology to produce high-quality products. The products are mainly sold to Germany, the United States, Japan, Italy, Singapore, Thailand, Malaysia and other countries and regions. We can manufacture, process and inspect according to the world brand standard. It can be manufactured according to GB, JIS, DIN, AISI and other international industry standards.
What is EDM Machining?
The core of EDM is two electrodes (one is workpiece), which are separated by dielectric liquid, usually deionized water or oil. When the electric field between the two electrodes is high enough, the dielectric breaks down, the current flows through, and the material is removed from the two electrodes. The current between the electrodes is not constant; instead, the instantaneous debris is washed away by the fluid. This can be repeated to erode features of fine control that cannot be created by traditional processing methods.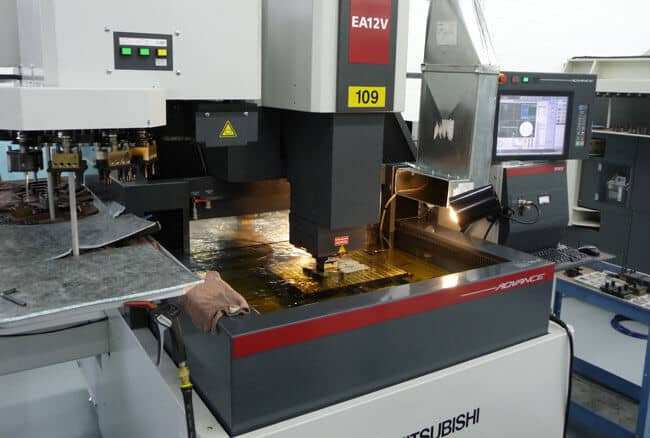 Advanced EDM Machining Equipments
In 2014,We purchase Mitsubishi -MV2400 from Japan.EDM accuracy: dimension tolerance (+0.001 mm), coaxiality less than 0.002, true roundness 0.0015 mm, surface roughness Ra0.025, straightness 300 mm less than 0.002. In 2014, we purchased 4 sets Fanuc EDM equipments from Japan. The discharge precision can reach 0.005mm, the discharge clearance angle is the smallest R0.015, and the mirror discharge finish can reach Ra0.2.

EDM Machining Video | DDPROTOTYPE

Mitsubishi -EA12V Specifications
                             Travel (X / Y / Z) in mm                                                                                                               400 / 300 / 300        
                             Max. workpiece dimensions (W x D x H) in mm                                                                    850 x 640 x 250    
                             Max. workpiece weight in kg                                                                                                   700    
                             Max. electrode weight in kg    50                                                                                            50
                            Table dimensions (W x D) in mm                                                                                             700 x 500    
                            Daylight (table – C-axis with EROWA chuck) in mm                                                              152,5–452,5    
                            Max. dielectric filling level                                                                                                         300    
                            Overall dimensions with tool changer (W x D x H) in mm                                                    2145 x 2050 x 2380    
                            Machine weight in kg                                                                                                                 3725    
                            Mains voltage    3-phase                                                                                                            400 V/AC, 50/60 Hz
Advantages of EDM
1 It is a complementary processing method for traditional manufacturing processes such as Swiss CNC turning and milling. It is very suitable for the production of high precision gears, mechanical components and rapid turning prototypes with complex geometry.
2 Create complex shapes, otherwise it is difficult to produce with traditional cutting tools.
3 Cut extremely hard, challenging and special materials into very precise tolerances for high-precision mechanical components.
4 For very small workpieces, traditional cutting tools may damage parts due to excessive cutting tool pressure.
5 There is no direct contact between tools and artifacts. Therefore, fine parts and weak materials can be processed without any deformation.
6 No burrs.
7 After the process is completed, little or no polishing is required.
Engineering superiority
In the processing of precision parts, the popularity of EDM machining is increasing. It has proved to be a complement to traditional manufacturing processes such as SWISS turning and milling. It is very suitable for the production of geometrically complex high-precision gears, mechanical parts and rapid turning prototypes.