Insert Injection Molding
What is insert injection molding?
Insert molding is a process that begins by putting metal, ceramic or plastic parts into plastic injection molds. After these parts are properly placed, the mold is filled with molten plastic during the normal injection molding process. After the plastic has cooled, the inserted part is now firmly bound to and integrated into the plastic part. There are many options for placing inserts in the mold. Threaded sleeves, wires, batteries and warning labels are just a few examples.
Why use insert molding?
One of the biggest reasons for using insert injection molding is the total cost savings. Although it is more expensive to add inserts in the production process, there is no second processing of the parts to manually install the inserts, which can save a lot of costs. Another advantage is that the insert is more structurally stable than inserting it after molding.
Consider a plastic part in which multiple threaded bushings need to be integrated. If these bushings are not insert molded during plastic injection molding, they must be added in other post molding processes by other methods (e.g., hot riveting (thermoplastic riveting)). This second process will increase the time and cost of molding projects.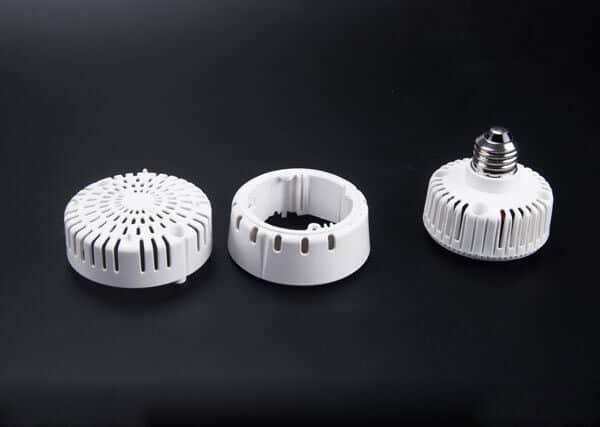 Metal insert molding
The final benefit to consider is that weight savings can be achieved through insert molding. For example, if you consider making a part entirely of metal because it requires machining metal screw holes, you can save a lot of weight by using plastic injection molded parts and inserting threaded metal bushings (assuming your design will allow this material variation). This is very important in industries where weight reduction is a top priority, such as the automotive and aerospace industries.
Is there any special consideration for insert molding?
Support
Whether you use metal, ceramic or plastic inserts, one of the biggest considerations is that you have enough material to support the plug-in. Too thin a wall can cause the insert to separate from the rest of the part. This may occur during production or during the use of parts. You need to make sure you have enough plastic material to place the plug-in correctly.
Temperature
When using plastic inserts, this consideration is more of a problem. You are going to make sure that the inserts you use in the mold can be safely exposed to the temperature required to melt the plastic injection material without deforming the insert. If your insert cannot withstand the temperature of the molten plastic, you will need to see if another plastic with a higher melting point can be safely used.
Pressure
Another consideration for insert molding is whether your insert can withstand pressure. The pressure generated in the process of plastic injection molding is very high. You need to make sure that the blade can withstand this pressure without breaking or deforming.
Injection molding process of insert
Insert molding (also known as insert molding) is similar to injection molding and uses the same type of machine. During the molding of the insert, the plastic resin particles are heated until they melt. The molten liquid plastic is introduced into the mold under pressure. The die can be made of any metal such as steel or aluminum. The molten form is then cooled and solidified into a solid form. The plastic material thus formed is then removed from the mold.
Insert molding also uses materials similar to the injection molding process. The only exception is metal elements that can be added before the mold is finished.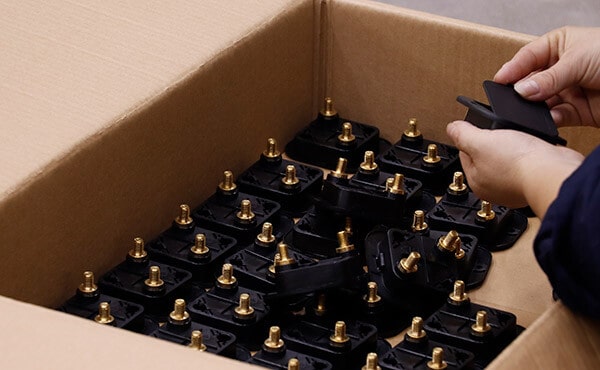 Insert Molding Applications
There are many applications to insert molding. Such applications include:
Auto industry components

Industrial equipment components

Medical devices

Couplings

Threaded fasteners

Electrical parts
DDPROTOTYPE can help you with your insert molding needs.
Insert molding and Overmolding
On the surface, the two technologies look very similar. Insert molding usually takes only a small part and is then encapsulated in a plastic resin, just like a threaded bushing. Overmolding, on the other hand, is a process in which plastic is injected into another top, a different material, a plastic sheet forming a plastic layer. For example, the case of a portable drilling rig. The main body of the shell is the first process of injection molding (base material), and then the softer handle and handle are coated on the main body.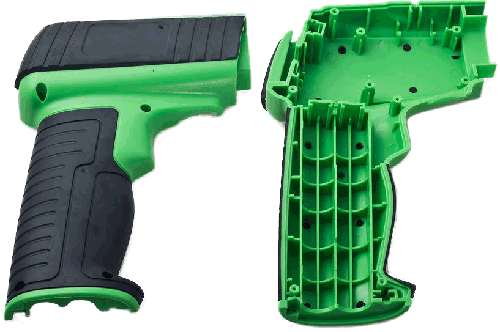 How long can the injection mold last?
Our injection molds usually last more than 100000 cycles. In addition, DDPROTOTYPE provides a lifetime warranty for these injection molds. As long as we continue to manufacture parts for you, we will maintain and refurbish the tools at our own expense as needed.