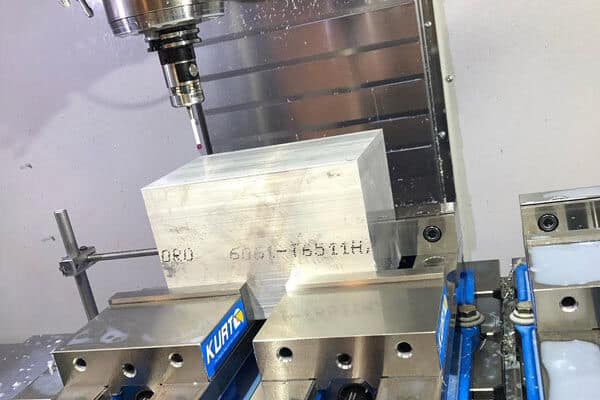 CNC Manufacturing
DDPROTOTYPE is a CNC manufacturing service supplier that provides customized CNC machining services to help our customers meet prototype machining needs. We have 100+ advanced manufacturing machines which include CNC milling machines, CNC turning machines and EDM manufacturing centers. The materials commonly used here include AL6061, AL6063, AL7075, AL5052, AL3003, AL2024, stainless steel 304, stainless steel 303, stainless steel 301,Stainless 17-4 PH, 316L stainless steel, brass, copper, acetal, ABS, PC, PP,PE, PMMA, GF filled nylon, PEEK,PTFE and so on 60+ Certified materials. We are ISO 9001:2000 and QS9000 world-class quality standards company, our service industry include aerospace, medical, automotive ,robotics, electronics, etc.
CNC Manufacturing For Mass Production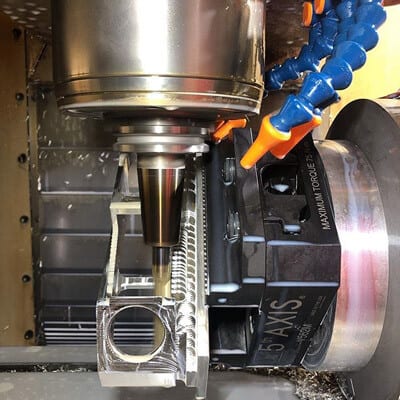 For CNC mass production, we will divide it into several processes after analyzing the engineering drawings based on different quantity. For each machining process, we will design and manufacture fixtures. At the same time, we will formulate the operation process and inspection tools to ensure stable processing quality, improve production efficiency and reduce costs. There are many factors will affect the machining price, the most important one is to design fixtures, suitable fixture makes processing affordable.
Each fixture must undergo countless clamping and unclamping actions, and need to check the fixture regularly to ensure the availability. The produced parts need full dimension inspection, only after FAI is qualified can we release mass production and next process.
Die-casting parts cannot meet the high precision requirements, so CNC mass production can also be used to machining critical tolerance dimension for die-casting parts. Die-casting parts have higher requirements in fixtures to realize cost-efficient CNC mass production.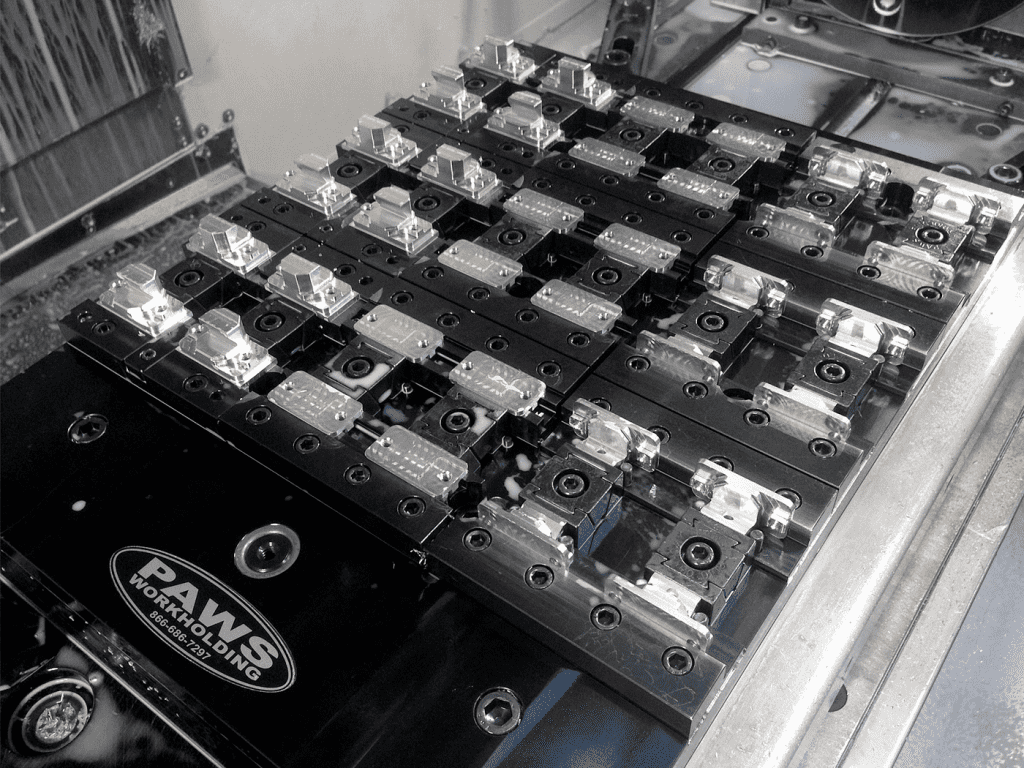 Compared with die-casting parts, CNC mass production parts can apply more surface treatments, such as anodizing, plating, passivation, painting, and electrophoresis, etc. For example, high-end decorative parts, mobile phone case , etc. are all processed by CNC mass production.
For mass production products, we can also realize automatic assembly line processing. Each part processing time can be calculated so that the completion time of the order can be expected exactly.
Advantages of CNC manufacturing Service
DDPROTOTYPE is proud of its outstanding customer satisfaction, high-quality products, pay attention to the latest and emerging manufacturing technologies, constantly expanding and improving our CNC manufacturing services and processes to meet the growing demand of the different clients from all over the world. Our multi-axis high-speed CNC milling machine can produce complex large parts; Our CNC manufacturing provides the highest flexibility, high quality and reliable machining services. Whether it is one piece of parts or mass production, we have most suitable machining method and great efficiency to provide precision tolerance parts even 0.005mm with short lead time. On the same time, our CNC manufacturing is a quick machining method to test the shape, fit and function of the design as well as for market research with small lot production. We have always been committed to provide quality products helping customers solving problems as required. We offer fast CNC quotation, very competitive price.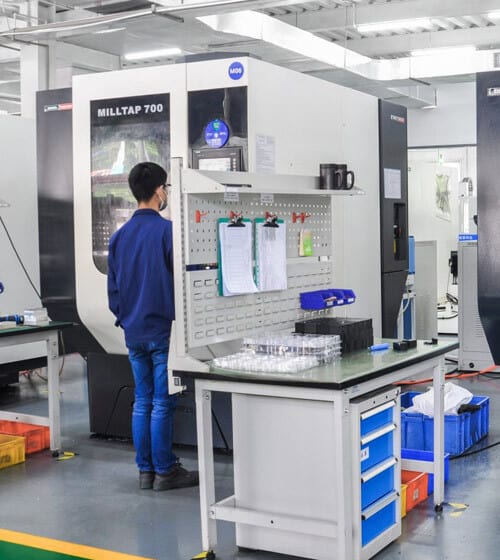 Our Capacity on CNC Manufacturing
We have 100+machines and 40+ engineers, our CNC machining department equipped with the latest CAD/CAM software. which ensures that we can handle 500+ projects per month; Our machines work 7*24hours,and we can produce 9k+parts everyday , which makes us very honored that we can send 20+ parcels around the world via DHL/ FedEx/UPS/TNT and so on everyday.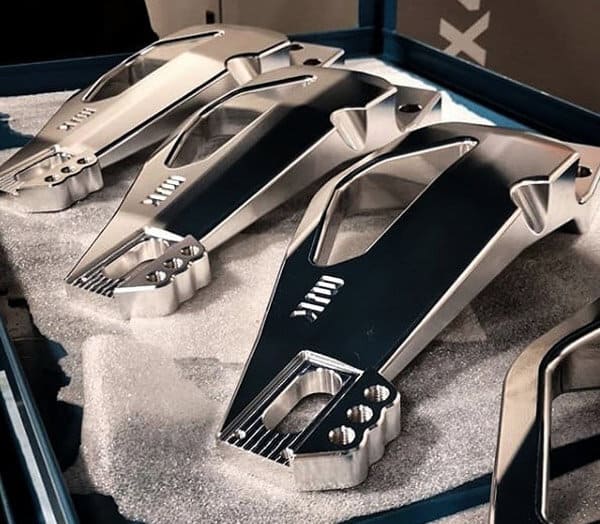 CNC Manufacturing Video | DDPROTOTYP
CAD / CAM functions 
Many parts of the milling process, from tool creation to the final output of our CNC machining center, are guided by our experienced machinist team using advanced systems.And we use CAD/CAM software, eg. UG Mastercam powermill,
High standard process control 
Operate accordance with the processing instruction strictly, measure products regularly, critical dimension measured while processing.
Extensive machining materials 
Our milling machines and lathes can handle most aviation grade materials. Alloy, titanium, stainless steel, aluminum, brass, copper and many engineering plastics.
Qualification certification 
ISO 9001:2015 quality system and extensive understanding of material source requirements enable us to fully meet the expectations of prototype processing.
Service industry 
Our service industries include aerospace, medical, automotive, robotic, electronic, optical parts, etc.
Trustworthy supplier
We work with 3900+clients from all over the world, and We've worked with most of them for about 15 years, We are proud to be their Trustworthy supplier.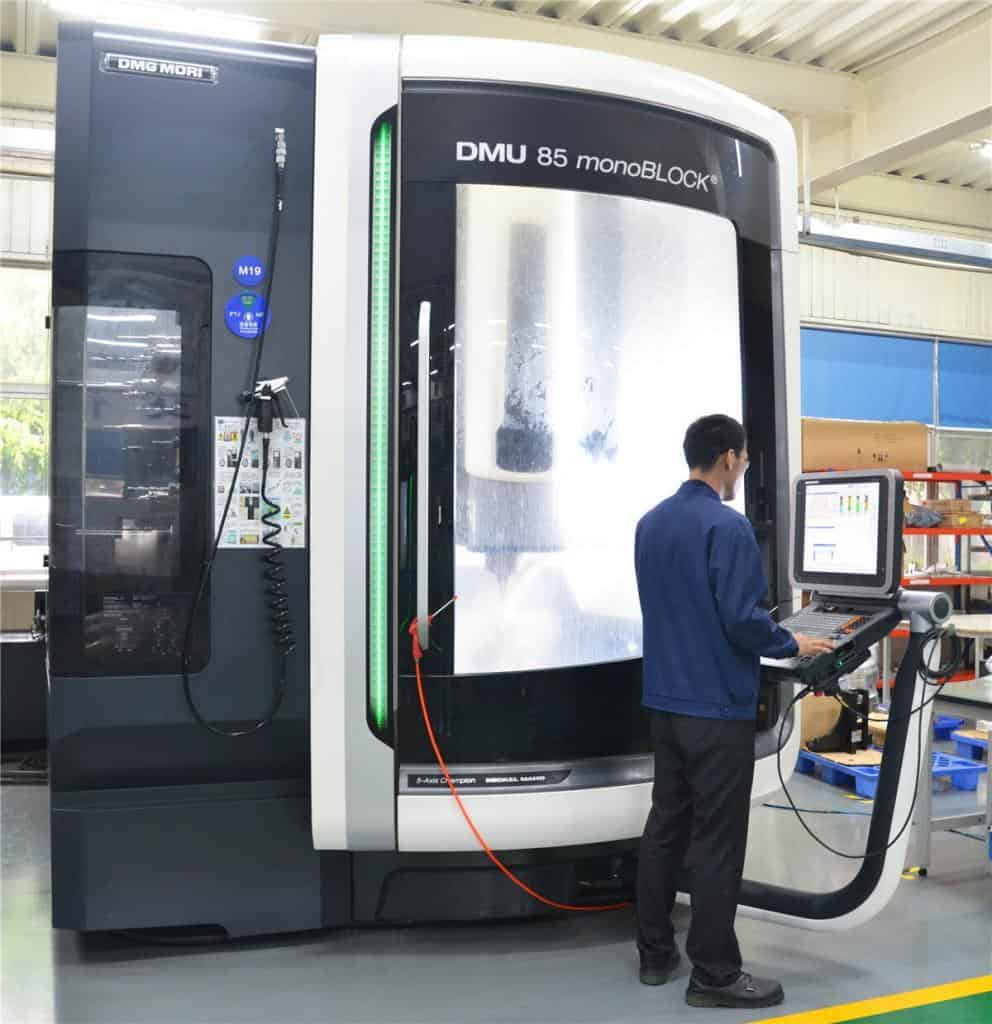 Complex Prototyping Capbility
5-axis machining center is increasing 2 of A/B/C rotating axes on the basis of 3-axis, which is characterized by the increase of the two rotating axes and linear axis linkage and structure. The 5-axis linkage makes the machining efficiency faster. Inclinable C-axis structure, larger bearing, better rigidity.
For some complex multi-faceted machining products, it is difficult to achieve higher accuracy in 3-axis machining, and need much manual intervention, while 5-axis processing can achieve rapid positioning processing, mainly to increase the processing accuracy of products from the following angles:
1) Introducing 5-axis fixture;

2) Reduce clamping process;

3) There is no manual multiple clamping, The clamping error is reduced;

4) Only need to find a coordinate system, reduce manual errors;

5) Reduce the length-diameter ratio of the tool and reduce the risk of bouncing knife.
5-axis can improve the processing efficiency and surface processing quality of the workpiece from the following factors:
1) Use a tool with relatively short length and diameter to improve the processing stability;

2) Reduce the EDM process, the whole surface is more even;

3) Use the side edge of the ball knife to process and improve the surface quality of the workpiece.
Service industry
CNC drilling, milling, cutting and grinding can be done in a very short time. To meet the needs of precision prototype machining and mass production for aerospace, medical, automotive, robotic, electronic and to meet the needs of higher precision requirements, more precise CNC machine tools are needed.
Full dimension measurement and trial assembly
for all parts with 2D drawings, we will prepare a full-dimension measurement report according to the actual Inspection data and send it together with products, which is also an important step for us to ensure that the parts sent meet the requirements.
For the assembly related components, we will try assembly before shipment to ensure that the parts can match(fit) smoothly when receiving abroad.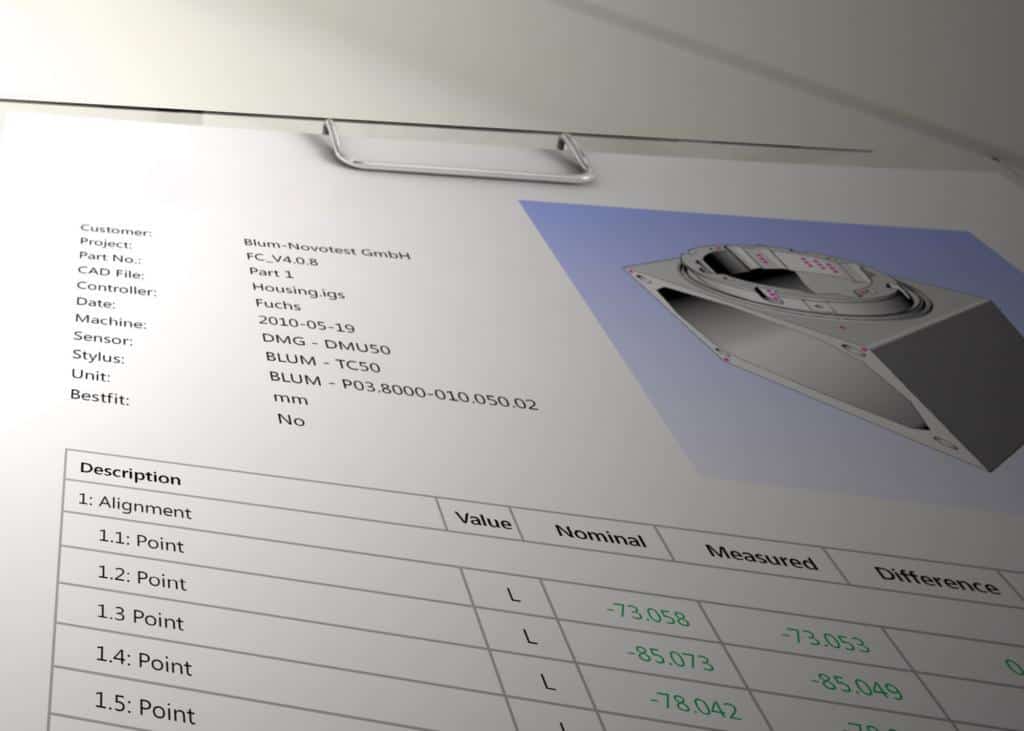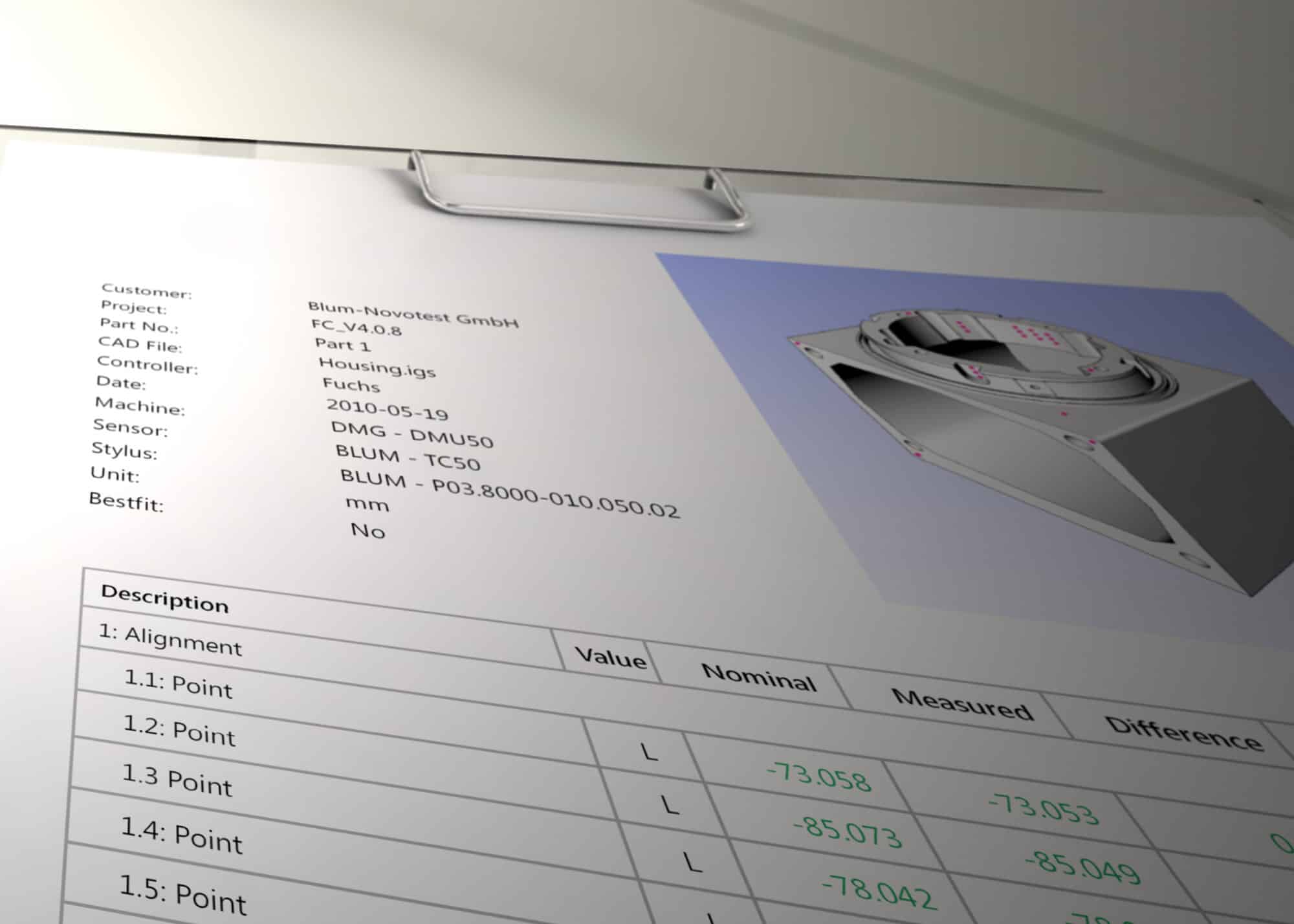 In CNC manufacturing, there are hundreds of manufacturers, but not all companies provide the same level of quality and customer service. Since its establishment in 2003, DDPROTOTYPE has been committed to providing customers with the best service. We specialize in prototyping and Low volume manufacturing of parts. Some of our services include: milling, boring, drilling, EDM, knurling, broaching, hobbing and hexagon groove. DDPROTOTYPE focuses on quality accuracy and customized CNC machining services. Whether your project is a large project, a small project, a one-time project or a long-term project, we will provide you with excellent and competitive technical services.